Turn your studies into practice.
We help make the leap from theory to practice as easy as possible. At Brasseler, university students will meet experienced colleagues who can support them in implementing what they have learned and collecting professional experience.
You might even launch your own career in medical technology: We are always interested in discovering new, talented employees and offering them a future at Brasseler after their studies.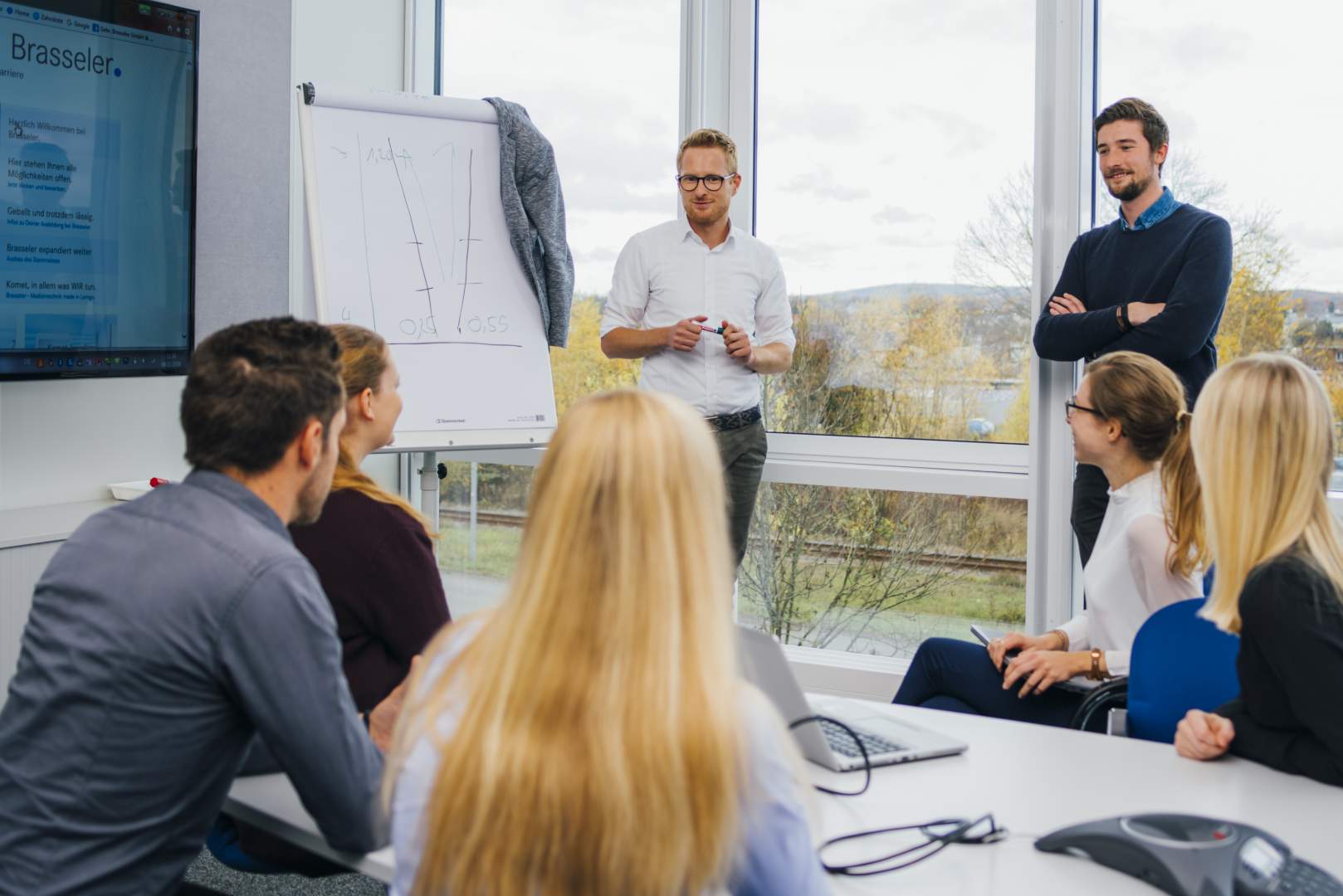 Focused on the future: theses and student jobs.
We are familiar with degree programs in a wide variety of fields. Whether you are interested in completing a Bachelor's or Master's thesis, we have the right approach for you. We can help you choose your ideal topic.
Medical technology, and our company, are so versatile that you are sure to find a topic to fit your interests. Maybe you already know what you want to write your thesis about, and are looking for a suitable company.
Please contact us.
Interested?
We look forward to hearing from you. Find current advertisements here.
Tobias, Process and technology management
"At Brasseler, I have the opportunity to develop both personally and professionally every day. I specifically chose Brasseler because the company has so much future potential."
Carina, Komet Medical product development
"Even while I was completing my Master's thesis, I saw how the company's values truly do shape their everyday activities. I felt like part of the Brasseler family right away. I appreciate the fair, friendly team atmosphere, and the opportunity to contribute my own ideas and help actively shape processes. In addition, Brasseler is an employer that offers me outstanding future security."
Sofia, Dental product development
"Brasseler simply has an outstanding reputation as an employer – that's why I applied. And I was not disappointed. Here, I have found an exciting work environment with plenty of opportunities for development. I particularly appreciate the good solidarity among our colleagues, and the almost familial working environment; a true rarity for such a large company."
Frederik, Dental product development
"It is extremely important to me to use the opportunities offered to implement what I have learned in practice, and to develop myself personally and professionally at the same time. That is specifically why I chose Brasseler. I also appreciate the honest recognition of my performance, and the friendly team atmosphere in my everyday work.
Franziska, Marketing communication
"Brasseler is a respected family company with a long history. The values the company maintains match up exactly with what I think is important to work in a goal-oriented, harmonious way. They simply match up with my own personal values. My everyday work at Brasseler is shaped by a strong focus on teamwork; I always find a helping hand behind any office door if I am facing a challenge. I look forward to coming here every day.
Marc, Endodontics product management
"At Brasseler, I found the best possible place for my professional future: a very well-managed, healthy company with family values and plenty of opportunities for personal development. I especially appreciate the respectful way colleagues engage with one another."
From Lemgo to the world
Trainees at Brasseler
Our trainee program consists of a balance between on-the-job and off-the-job phases. We individually tailor the program to meet your personal needs.
This means that a continued training program will be designed specifically for you, in addition to your basic training and an intensive departmental onboarding process.
It offers you the ability to help design projects and expand your knowledge through supplementary training. The trainee program is supplemented by multi-month international assignments at our international subsidiaries.
You will receive support from expert contacts and mentors during the trainee program. You will collect life-work experience and build your company-wide network for the future.
Whether online or on the phone: We always have the answer.
If you are interested in one of our job offers, want to apply directly, or just have a question, please contact us. Either online or by phone.
Mr. Dietmar Reilard
Telefon: 05261 / 701-328
E-Mail: dreilard@brasseler.de